Quality Policy
Quality
The quality of our product is our utmost priority. All employees are involved in the chain of product integrity, and take active responsibility in the quality of our product.
Service
The customer is vital to our success. Without satisfied customers Synergy Microwave Corporation has no reason for being.
Integrity
Our customers, vendors and even our competitors know that we honor our commitments. We say what we do. We do what we say. As a company, we are committed to continual improvement of quality and performance for the benefit of our customers, employees and other interested parties.
Customer Benefits
ISO 9001 Certified - Read More
RoHs Compliant - Read More
Innovative Component
Superior Price & Performance
Excellence In Quality
Wide Selection of Standard Components and Full Custom Component Capabilities
Innovative Components Superior Price & Performance Excellence In Quality
Global Support & Distribution Network
Full Service Customer Support
Fast Delivery
History
Founded in late 1982 and Incorporated in February of 1983.
Mission
To provide our customers with the best technical solutions in a rapidly changing industry.
Ownership
Privately owned and operated.
Facility
| 201 Mclean Blvd., Paterson, NJ 07504 | Research & Development |
| --- | --- |
| CAD | Assembly & Testing |
2016 Supplier excellence award by Raytheon integrated defense systems
Metamaterial - Best editorial series award from Microwave Journal Magazine, June 2015.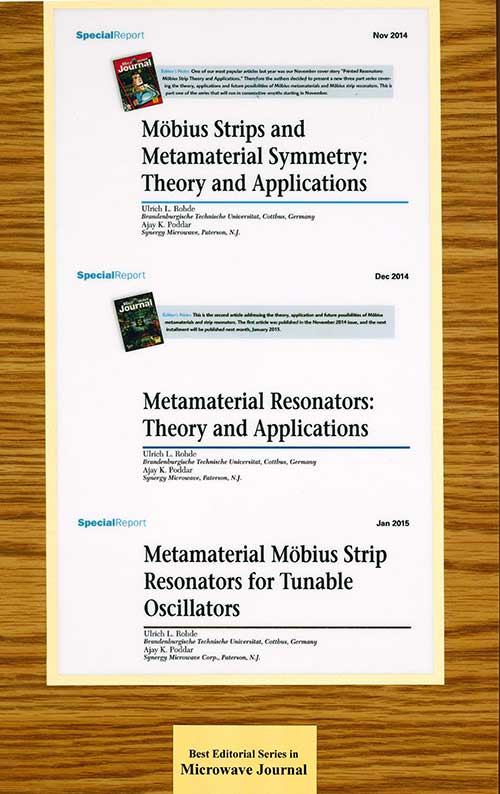 Multiple Base Oscillators - May 2013 (p. 122)
X-COM Systems Model VSG500A Vector Signal Generators - July 2013 ( p. 122)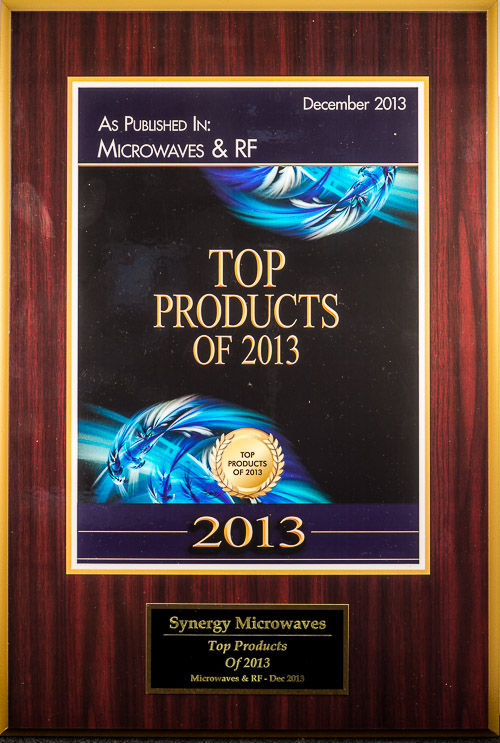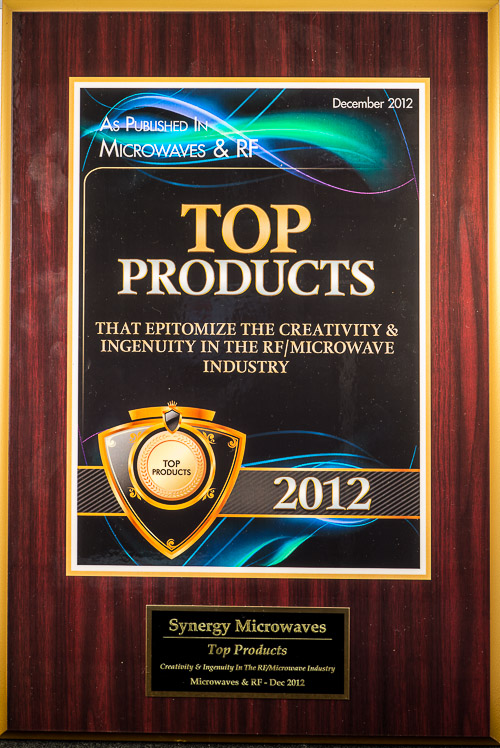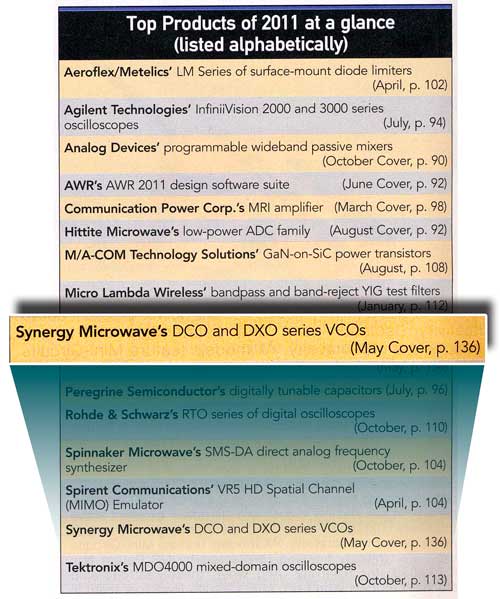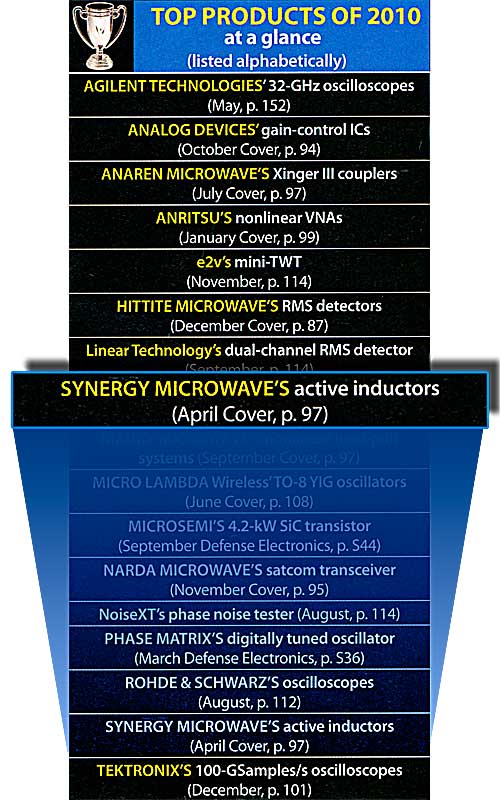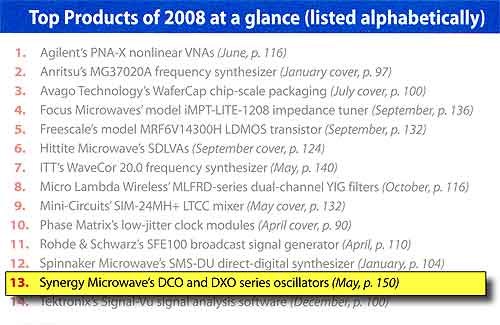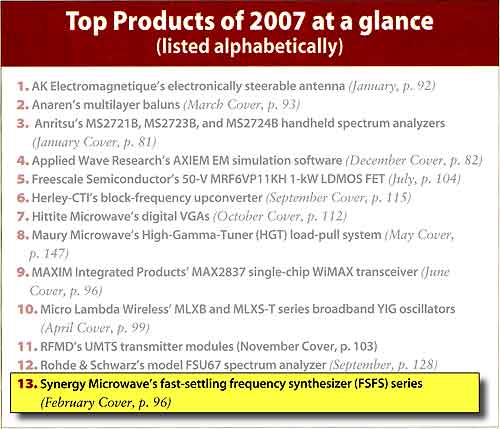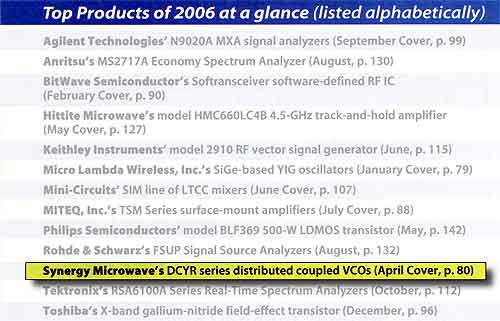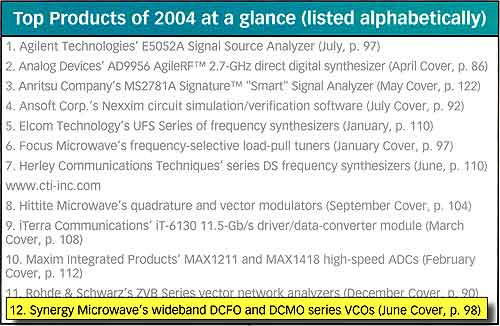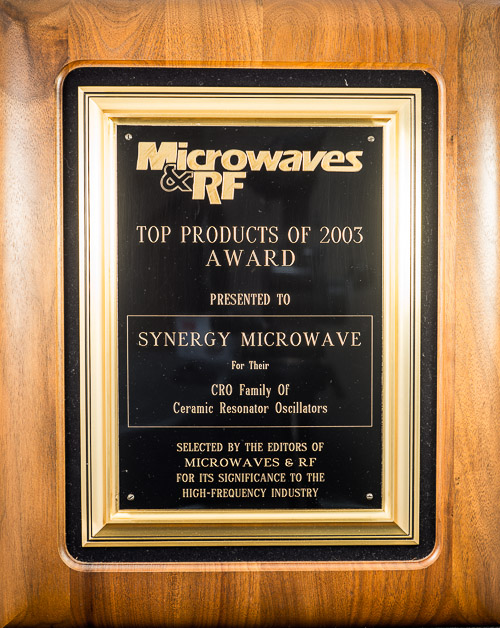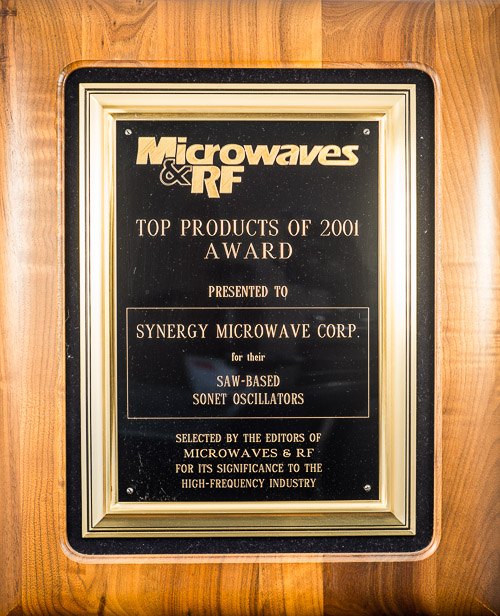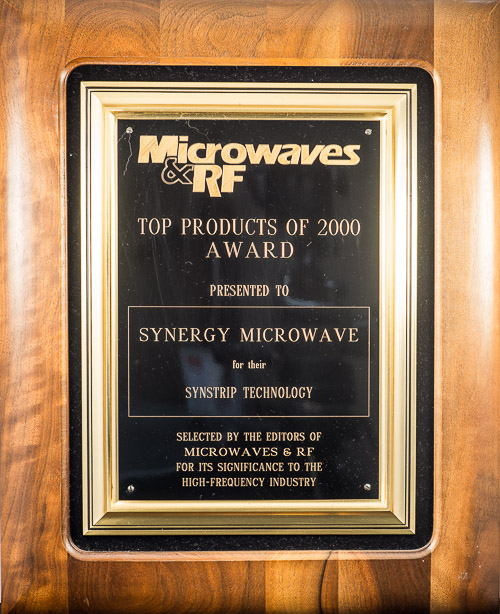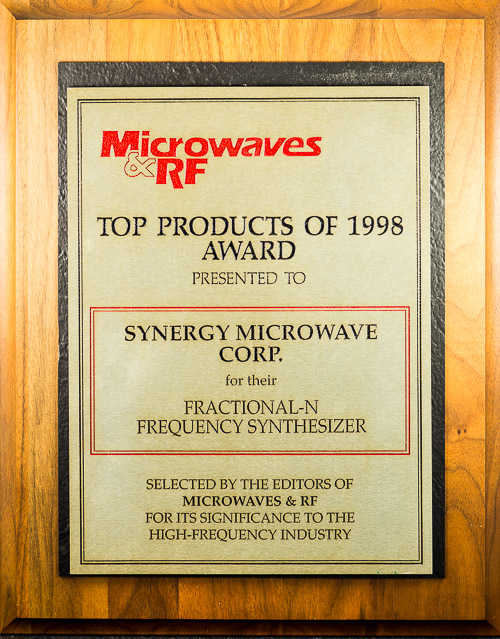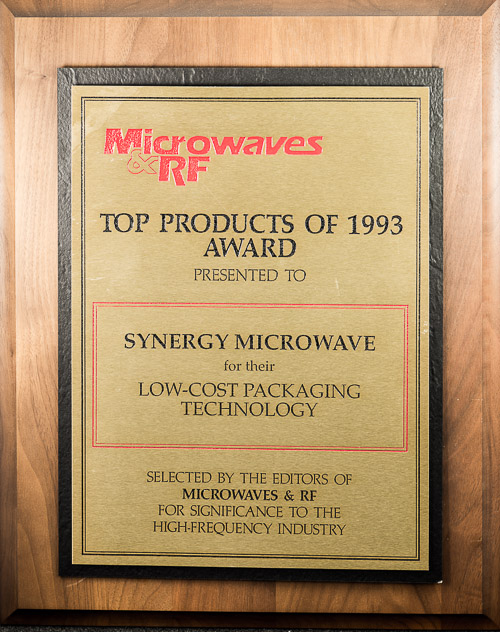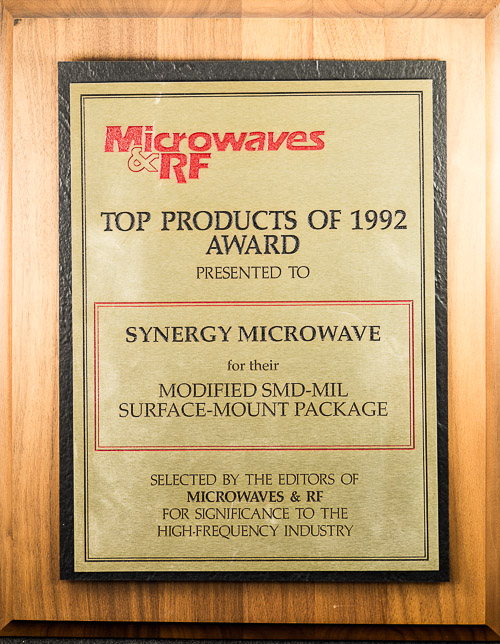 Approved Patents
Universal Surface Mount Package
U.S. Patent No. 5,160,810 - November 3, 1992
U.S. Patent No. 5,122,621 - June 16, 1992
Pioneered the first surface-mount mixer in 1985.
Plural Transformers with Elongated Cores
U.S. Patent No. 5,390,349 - February 14, 1995
Modulator with Harmonic Mixers
U.S. Patent No. 5,416,449 - May 16, 1995
Encasement For Circuit Having Plural Transformers
U.S. Patent No. 5,381,084 - January 10, 1995
Phase Locked Loop Circuits and Voltage Controlled Oscillator Circuits
U.S. Patent No. 5,650,754 - July 22, 1997
Surface Mountable Transformer
U.S. Patent No. 5,805,431 - September 8, 1998
Multi-Layer Microwave Circuits and Methods of Manufacture
U.S. Patent No. 6,525,623 - February 25, 2003
Single Side Band Modulator
U.S Patent No. 6,850,575 - February 1, 2005
Microwave Frequency Surface Mount Components and Methods of Forming Same
U.S. Patent No. 6,917,265 - July 12, 2005
Shortened Dipole and Monopole Loops
U.S Patent No. 6,947,007 - September 20, 2005
Integrated Low Noise Microwave Wideband Push-Push VCO
U.S. Patent No. 7,088,189 - August 8, 2006
Oscillator Circuit Configuration
U.S Patent No. 7,102,453 - September 5, 2006

Wideband Voltage Controlled Oscillator Employing Evanescent Mode Coupled-Resonators
U.S. Patent No. 7,180,381 - February 20, 2007
Tunable Frequency, Low Phase Noise and Low Thermal Drift Oscillator
U.S. Patent No. 7,196,591 - March 27, 2007
Low Thermal Drift, Tunable Frequency Voltage Controlled Oscillator
U.S. Patent No. 7,262,670 - August 28, 2007

User-Definable Thermal Drift Voltage Controlled Oscillator
U.S. Patent No. 7,265,642 - September 4, 2007
Multi-Octave Band Tunable Coupled - Resonator Oscillator
U.S. Patent No. 7,292,113 - November 6, 2007
Low Noise, Hybrid Tuned Wideband Voltage Controlled Oscillator
U.S. Patent No. 7,365,612 - April 29, 2008
Multilayer Planar Balun Transformer, Mixers & Ampllifiers
U.S. Patent No. 7,495,525 - February 24, 2009
LC Oscillator Circuit With A Compensation Coil for Parasitical Collector Capacitor
U.S Patent No. 7,532,080 - May 12, 2009
Integrated Low Noise Microwave Wideband Push-Push VCO
CA. Patent No. - 2548311 - August 5, 2009
User Definable Thermal Drift Voltage Oscillator
CA. Patent No. 2548317 - August 5, 2009
Passive Reflection Mixer
U.S. Patent No. 7,580,693 - August 25, 2009
User-Definable Low Cost, Low Phase Hits and Spectrally Pure Tunable Oscillator.
US Patent No: 7,586,381 - September 8, 2009
User-Definable Low Cost, Low Noise, and Phase Hits Insensitive Multi-Octave-Band Tunable Oscillator
CA. Patent No. 2568244 - September 24, 2009

User-Definable Low Cost, Low Noise, and Phase Hits Insensitive (Multi-Octave-Band Tunable Oscillator)
US Patent No: 7,605,670 - October 20, 2009
Visually Inspectable Surface Mount Device Pad
US Patent No: 7,612,296 - November 3, 2009
Low Noise And Low Phase Hits Tunable Oscillator
US Patent No: 7,636,021 - December 22, 2009
Tunable Frequency, Low Phase Noise and Low Thermal Drift Oscillator
CA. Patent No. 2534370 - February 9, 2010
Passive Reflection Mixer
CA. Patent No. 2524751 - March 1, 2010
Tunable Oscillator
CA. Patent No. 2533623 - March 1, 2010
Wideband Voltage Controlled Oscillator Employing Evanescent Mode
Japanese Patent No. 5102019 - October 5, 2012
User-definable, low cost, low phase hit and spectrally pure tunable oscillator
European Patent No. 1 783 893 - January, 9, 2013
Corporate Responsibilities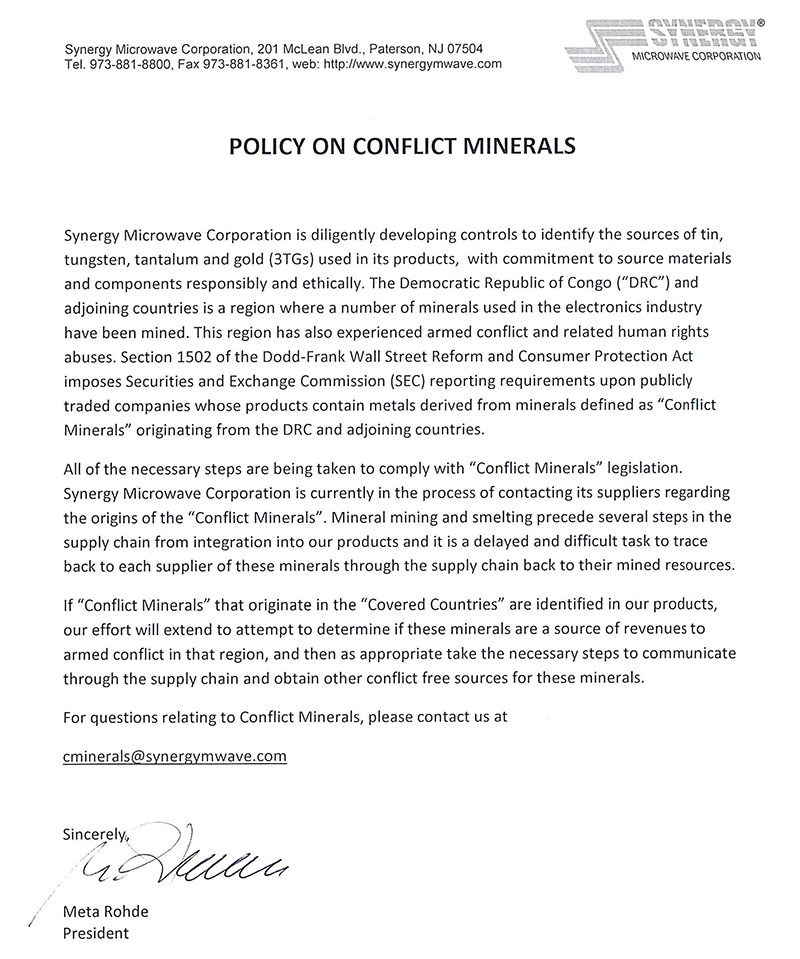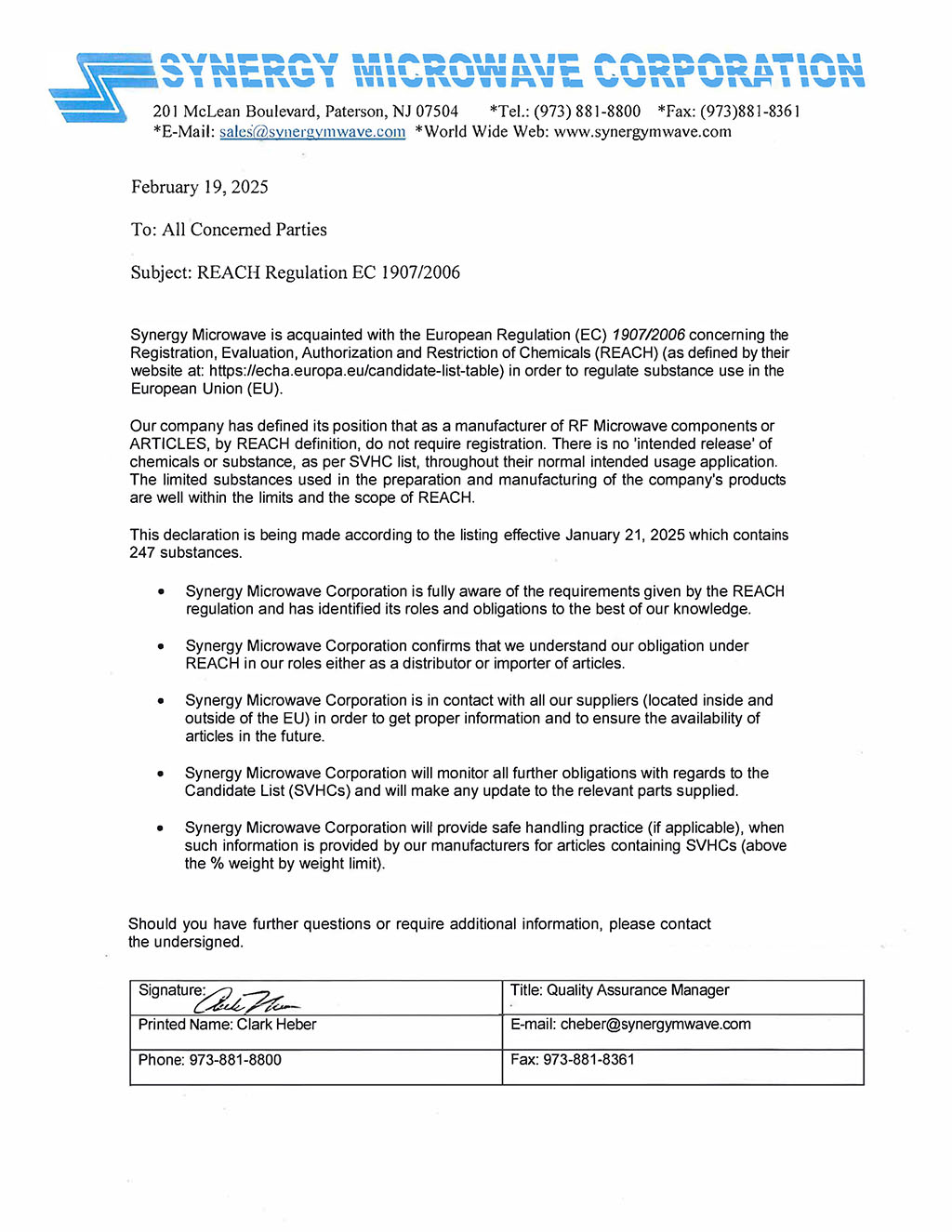 General Terms and Conditions
1. Order Acceptance - By accepting this Purchase Order and/or performing hereunder, the supplier named on the face of this Purchase Order ("Seller") agrees to comply fully with the terms and conditions of purchase set forth on both side of this document. Acceptance of this Purchase Order is expressly limited to the terms and conditions of this order and none of the Seller's terms and conditions shall apply in acknowledging this order or in the acceptance of this order, and are hereby objected to. Acceptance by Synergy Microwave Corporation ("Buyer") of the goods, services or work delivered under this Purchase Order shall not constitute agreement to Seller's terms and conditions. If the parties have entered into an executed agreement covering the subject matter of this Purchase Order, the terms of that executed agreement shall prevail to the extent of any conflict between the terms.


2. Price - Prices specified in this order shall remain fixed for all scheduled deliveries unless otherwise agreed in writing by both parties. Seller warrants that the prices to be charged for goods or for services ordered herein are not in excess of prices charged to other customers similarly situated, for similar quantities of goods, of like quality. Any general price decrease announced by Seller in classification of equipment and/or materials similar to the items described in this order shall automatically reduce the prices in this order by a comparable percentage. Time in connection with any discount offered by Seller will be computed from the latest of (i) the scheduled delivery date, (ii) the date of actual delivery, or (iii) the date an acceptable invoice is received. For the purpose of earning the discount, payment will be deemed to have been made on the date of mailing of Buyer's check
.
3. Payment Terms - Timing of payments shall be computed from (1) the scheduled delivery date, (2) the date of actual delivery, or (3) the date an acceptable invoice is received, whichever is later. Unless otherwise specified, payment will be made no earlier than net 30 days after the latest date defined above. Buyer shall be entitled at all times to setoff any amount owing, for any reason, from Seller to Buyer or its subsidiaries or affiliates against any amount payable by Buyer in connection with this order. Payment shall not constitute acceptance of Seller's terms and conditions nor waive Buyer's rights of rejection.
4. Sales and Use Tax - The property described in this order shall be exempt from sales and use tax, unless otherwise noted. If the goods or services described in this Purchase Order are noted to be taxable, all such taxes shall be stated separately on Seller's invoice.


5. Delivery; Overshipment - Time is of the essence. Delivery, or other completion of this Purchase Order, shall be strictly in accordance with the schedule set forth in this order. Seller shall notify Buyer immediately if Seller anticipates any delay in delivery or completion. Use of premium transportation to meet delivery schedules shall be at Seller's expense unless otherwise noted. Buyer reserves the right to cancel this order in whole or in part if Seller should fail to make deliveries in accordance with the terms herein. Furthermore, Seller agrees to pay to Buyer any penalties and damages imposed upon, or incurred by, Buyer resulting form Seller's failure to deliver articles, materials, or work on such delivery dates. No delivery shall be made prior to the date or dates shown unless Buyer has given prior written consent. Goods shipped to Buyer in advance of schedule may be returned to Seller at Seller's expense. Buyer may pay only for quantities ordered. Overshipments may be held at Seller's risk and expense for a reasonable time awaiting Seller's return instructions. Return shipping charges shall be at Seller's expense.


6. Packing; Shipment; F.O.B. - Unless otherwise specified, all Goods shall be packed, packaged, marked and otherwise prepared for shipment in a manner which is (1) in accordance with good commercial practice, (2) acceptable to common carriers for shipment at the lowest applicable rate and in accordance with current U.C.C. regulations, and (3) adequate to assure safe arrival of the goods. Seller shall mark all containers with necessary lifting, handling, and shipping information and provide an itemized packing sheet which shall accompany each shipment listing a description of the goods, Purchase Order numbers, date of shipment, and the names of the consignee and consignor. Unless otherwise noted on the face of this order, Seller shall ship goods freight collect using Buyer's specified common carriers. The F.O.B. point shall be as defined on the face of this order. Responsibility for risk of loss and damage shall transfer from Seller to Buyer at the F.O.B. point, providing however, that hidden damage resulting from inadequate or insufficient packaging, preservation and preparation for shipment shall remain the responsibility of Seller.


7. Changes - Buyer may, at any time and from time to time by written change order and without notice to sureties, postpone delivery schedules and make changes in (a) drawings, specifications or designs, (b) method of packing or shipment, (c) inspection of testing methods or standards, (d) quantity of items ordered, and/or (e) place of delivery. If any such change causes a material increase or decrease in the cost of or the time required for the performance of this Purchase Order, an equitable adjustment shall be made to the price or delivery schedule or both. Any claim by Seller for adjustment under this paragraph shall be made in writing within 30-days after receipt of written notice of the change, and any claim not made within such 30-day period shall be deemed waived. If Seller's claim for adjustment includes the cost of any property made obsolete or excess as the result of a change order, Buyer shall have the right to audit such property and to direct the disposition of such property. No change, modification or revision of this Purchase Order shall be binding upon Buyer unless made in writing and signed by a duly authorized representative of buyer. Nothing herein shall excuse Seller from diligently proceeding with the order as changed.
8. Inspection and Rejection - All items, including raw materials, components, subassemblies and end products, may be inspected and tested by Buyer at reasonable times before, during and after manufacture. If any inspection or test is made on Seller's premises, Seller shall without additional charge, provide reasonable facilities and assistance for the safety and convenience of the inspectors. Seller shall maintain and make available for a period of three years from completion adequate authenticated inspection and test documents. All items shall be received subject to Buyer's inspection and approval at Buyer's premises. Items rejected as not conforming to this Purchase Order shall be returned to Seller at Seller's risk and expense.


9. Warranty - Seller warrants that all items delivered hereunder will be merchantable, new, fit for the uses intended, of the grade and quality specified, free from all defects in material and workmanship, and, if of Seller's design, free from design defects. Seller further warrants that such items will conform to applicable samples, drawings, descriptions and specifications, including those furnished by Buyer or presented in Seller's sales materials. All warranties herein shall survive any delivery, inspection, acceptance or payment and shall run to Buyer, and/or its customers and users of its products. These warranties shall be construed as conditions, as well as warranties, and shall not be deemed to exclude the standard warranties of Seller or other or warranties which Buyer may have or obtain. Seller shall replace or repair, at its expense, any items not conforming to the foregoing warranties if notification of such nonconformity is given by Buyer within the earlier of 90 days after acceptance of such item or 30 days after installation of such item. If Seller, after receiving such notice, fails promptly to replace or repair such item, Buyer may do so without further notice and Seller shall reimburse Buyer for all costs incurred thereby.


10. Termination - Buyer may terminate this order, in whole or in part, at any time without cause by written notice to Seller. Such notice shall state the extent and effective date of such termination and, upon the receipt of such notice, Seller will comply with the instructions for work stoppage and the placement of further orders or subcontracts. The parties shall employ their best efforts to agree by negotiation upon the amount of reimbursement, if any, to be paid to Seller for such termination. Seller shall mitigate its claims to the maximum extent, but in no event shall claims exceed the lesser of fair market value, or actual costs of raw materials and work in progress material which Seller shows cannot be diverted to other uses. No claim shall be asserted or honored for loss of expected profits, or for any consequential or incidental damages due to cancellation. Termination under this provision shall not be deemed a breach of contract. Unless otherwise agreed in writing, Seller shall not make commitments for material or production in excess of the amount or in advance of the time necessary to meet Buyer's delivery schedule. It is Seller's responsibility to comply with this schedule, but not to anticipate Buyer's requirements. The provisions of this paragraph shall not limit or affect the right of Buyer to terminate this order for cause and shall not apply to a termination with cause. If this Purchase Order specifies a government contract number or otherwise indicates that the materials purchased are intended for use under government contract or subcontracts, Buyer may terminate this Purchase Order at any time either (a) in accordance with Section 52.249.2 of the Federal Acquisition Regulation as in effect on the date hereof, which is hereby incorporated in this Purchase Order by reference or (b) if such government contract or subcontract is terminated pursuant to any Subsection or Section 52.249 of such Regulation, or if a Stop Work Order is issued under Section 52.212.13.


11. Information - All specifications, drawings, sketches, models, samples, designs, technical information or data, written, oral or otherwise, furnished by or on behalf of Buyer, shall remain Buyer's property and shall be returned (together with all copies) promptly to Buyer at Buyer's request. Such information shall be treated as confidential and shall not be used, disclosed or reproduced by Seller except as required in the course of performing this or other Purchase Orders for Buyer. Unless Buyer has otherwise agreed in writing, information furnished or disclosed by Seller to Buyer shall not be considered to be confidential or proprietary and shall be acquired by Buyer free of restrictions of any kind.


12. Tools and Equipment - Unless otherwise specified in this Purchase Order, all tools, special dies, molds, patterns, jigs and other equipment (collectively referred to herein as "tooling") required for the performance of this Purchase Order shall be furnished by Seller at its own expense. All tooling furnished by Buyer to Seller or paid for by Buyer and any replacements, shall remain Buyer's property. Seller shall, at its own expense, safely store such property and separately from Seller's property, plainly identify such property as Buyer's property and refrain from using such property except for filling this or other Purchase Orders for Buyer. All such property shall be held at Seller's risk and unless otherwise agreed in writing by Buyer, shall be insured by Seller at its expense for an amount equal to its replacement cost and with loss payable to Buyer. All such property shall be delivered promptly to Buyer's designee on request.


13. Patents - Seller shall indemnify and hold Buyer harmless from any and all claims, liabilities, damages or expenses and defend all actions and proceedings at its expense, resulting from infringement or alleged infringement by any products or materials furnished by Seller of any United States or foreign patents, trademarks, copyrights or any violation of any other proprietary right, except where such infringement, alleged infringement or violation arises solely from Seller's compliance with Buyer's design or specifications. If any experimental, developmental or research work is called for or required under this order and such work is paid for by Buyer, Seller agrees to disclose to Buyer all results of such work and on request, to assign to Buyer each invention and any property rights, including copyright, resulting therefrom.
14. Set Off - Any amount owed to Seller (or any assignee or subcontractor of Seller) by Buyer or any of Buyer's affiliates shall be subject to deduction for any set off or counterclaim arising out of this or any other Purchase Order to Seller from Buyer or any Buyer's affiliates.


15. Assignment - Seller shall not delegate or subcontract any obligations or duties nor assign any rights or claims under this Purchase Order without Buyer's prior written consent and any such attempted delegation, subcontract or assignment without such consent shall be void. Purchases of parts, services and materials by Seller in the ordinary course of its business and required to complete this Purchase Order shall not be construed as an assignment, delegation or subcontract for purposes of this paragraph.


16. Indemnification; Liability and Insurance - Seller agrees to indemnify Buyer against any claim arising out of, or resulting from the provision of, the goods or services under this Purchase Order, provided that any such claim (1) is attributable to bodily injury or death or to injury to or destruction of physical property, and (2) is caused by a negligent act or omission of Seller. Seller at its expense, will maintain adequate insurance coverage to protect against its liabilities under this Purchase Order. Such insurance will include (1) workers' compensation insurance, (2) comprehensive general liability insurance, including coverage for product liability, bodily injury and property damage, and (3) automobile liability insurance. Upon request, Seller will furnish applicable certificates of insurance.


17. Insolvency; Limitation of Liability - The insolvency or adjudication of bankruptcy, the filing of a voluntary petition in bankruptcy, or the making of an assignment for the benefit of creditors, by either party, shall be a material breach hereof. Neither party shall be liable under any circumstances to any person for any special, incidental, indirect or consequential damages, including, without limitation, damages resulting from use or malfunction of the goods, loss of profits or revenues or costs of replacement goods, even if informed in advance of the possibility of such damages.


18. Compliance with Laws; Government Contracts Provisions - Seller warrants that no law, rule, or ordinance of the United States, any state, or any other governmental agency will be violated in the manufacture or sale of goods, or in the performance of the services covered in this order, and will defend and hold the Buyer harmless from loss, cost, of damage as a result of any such actual or alleged violation. The good or services provided under this order may be incorporated into products sold under a United States Government Contract or Subcontract. The Subcontractor terms previously provided to Seller shall apply to this order. Additional copies of the subcontractor terms are available from Buyer upon request.


19. Waiver - The failure of Buyer to enforce at anytime any of the provisions of this Purchase Order, to exercise any election or option provided herein, or to require at any time performance by Seller of any of the provisions hereof shall in no way be construed to be a waiver of such provisions, nor in any way affect the validity of this Purchase Order or any part thereof, or the right of Buyer to thereafter enforce each and every such provision.


20. Applicable Law - This Purchase Order shall be governed by, subject to, and construed in accordance with laws of the State of New Jersey.


21. Additional or Inconsistent Terms - Terms and conditions set forth in any document provided by Seller to Buyer which differ from, conflict with, or are not included in this Purchase Order shall not become a part of any agreement between Buyer and Seller unless such terms and conditions are specifically accepted by Buyer in writing. Reference in this Purchase Order to any proposal or quotation from Seller does not constitute or imply acceptance of the terms and conditions thereof.


22. Conflict Minerals By accepting this PO you are confirming that due diligence measures were taken to assure that conflict-free minerals were used in the composition of the product ordered in conformance with the US SEC Dodd-Frank Act: Section 1502 - Conflict Minerals. (Applicable only to parts containing Tantalum, Tin, Gold, and Tungsten)


23. Electronic Parts - Electronic part suppliers must have a counterfeit electronic parts control plan or statement to assure parts are authentic.
Employment Opportunities
1. Senior Engineer
Responsibilities:
Design complex RF and Microwave components, circuits, systems, and printed circuit boards, utilizing design software tools such as CAE and CAD.
Devote a significant portion of time in developing necessary electrical engineering system and testing and analyzing its acquisition system performance.
Design and develop phase locked loop circuits and synthesizers and VCO's (voltage controlled oscillators).
Research and design fractional-N fast-switching synthesizers, write test software and procedures for the test equipment to test the fractional-N synthesizers.
Utilize personal initiative, maintain both formal and informal technical training, and focus on developing the next test equipment generation based on the latest available electrical technologies.
Possess proficient electrical engineering and/or electronic engineering skills along with a body of highly-specialized knowledge that will be applied to contributing to existing technical information.
Use integration protocols and methodologies to ensure that SMC's integration design protocols do not become obsolete, given the rapid technological advances in the field.
Utilize sound knowledge of CAD methods and hands-on experience in all synthesizer related fields (CAD, PCB, detail circuits, relevant programming).
Perform circuit and component analysis and simulations using industry ADS, HFSS and other CAD tools.
Identify and establish performance standards and verify and validate designs through simulations, tests and reliability studies.
Qualifications:
Master's Degree in Electrical Engineering plus two years of engineering experience.
Require expertise in using Software: LabVIEW, TestStand, XML, XPath, Version One, ClearCase, ClearQuest.
Must have proof of legal authority to work in the United States.
If you are interested and qualified for this position, you can send us a copy of your resume through mail, email or fax.
Mail resumes to: Human Resources, Synergy Microwave Corporation, 201 McLean Boulevard, Paterson, NJ  07504. Reference job # 20150805
Email:  hrd@synergymwave.com
Fax:  973-881-8361
---
2. Design Engineer

Responsibilities:
Design, modify and develop complex RF and Microwave circuits, systems, and sub-assembly design to improve performance, quality, manufacturing process and product yield.
Oversee the entire process from design to completion of a component or subsystem. Resolve any issue along the way to ensure meeting deadlines.
Set performance criteria such as bandwidth, noise, impedances, signals, etc.
Analysis and simulations utilizing industry standard tools such as ADS, HFSS and CAD.
Preparation of block diagrams, schematics and PC board layout with the design team.
Validate and verify design via simulations and tests. Research and apply the latest techniques in user input analysis to establish performance standard.
Support engineering, production and marketing team with questions and concerns about new and existing product design.
Management of design projects from start to completion. Define team member responsibilities and manage members to meet production goals.
Qualifications:
BS degree or higher
5 years experience in the design of RF and Microwave components and system
Hands on experience in PCB layout on a PC
Knowledge in amplifiers, mixers, oscillators, both theory and practice
Knowledge and interest in CAD
If you are interested and qualified for this position, you can send us a copy of your resume through fax, E-mail or mail.
Resumes sent through E-mail must be in MS Word or PDF format.
E-mail: hrd@synergymwave.com

Fax : (973) 881-8361

Mailing Address:
Synergy Microwave Corporation
201 McLean Blvd., Paterson, NJ 07504
---
3. Intermediate Engineer: Embedded hardware/software and mixed applications
Very exciting opportunity to join a strong engineering team dedicated to develop radio frequency products for the microwave communication, microwave instrumentation, radar, and defense applications. You will have extremely deep resources and guidance for modern radio product development using mixed signal and digital radio techniques.

Qualifications:
BS degree, and 10 years work experience. Please provide portfolio examples.
Min. experience 5 years with embedded system C code, VHDL, Altera and or XLINX tools
Sound knowledge of related CAD methods
Hands on experience with hardware interface for mixed signal application (CAD, PCB, detail circuits and relevant programming)
Experience in radio frequency applications. Modulation algorithms, Signal detection, leveling, and control.
Visual Basic, Visual C or C sharp. User interface tool development for both internal and customer application suites.
If you are interested and qualified for this position, you can send us a copy of your resume through fax, E-mail or mail.
Resumes sent through E-mail must be in MS Word or PDF format.
E-mail: hrd@synergymwave.com

Fax : (973) 881-8361

Mailing Address:
Synergy Microwave Corporation
201 McLean Blvd., Paterson, NJ 07504
---